Live review
Serah Sings for Peace
The Concert for The Hague Appeal for Peace 1999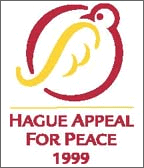 Serah and her band of international musicians performed at The Hague Appeal for Peace in the Netherlands on May 14, 1999. The concert was in association with a four-day conference that drew a crowd of approximately 8,000 participants gathered to "jump-start a new century of peace."
The Prince William Alexander Hall seated only 2,200 people for the concert which featured musical artists from around the world. Music ranged from classical to pop, from world to rap. While there, the artist helped build a community center and find homes for orphans.
1999 marks the 100th anniversary of the first International Peace Conference in The Hague. The Hague Appeal was launched three years ago to promote a new century of peace.